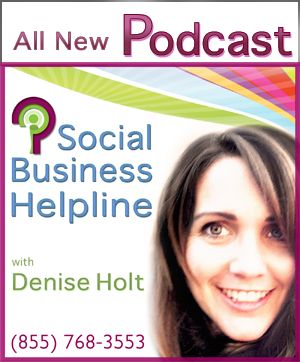 Social Business Helpline, Episode 006
April 27, 2014
In today's ever-changing world of social business and digital transformation, staying up to date with cutting edge technology and best practices is not easy.
Here's your chance to ask industry thought leaders any and all of your burning questions! Get relevant advice from those who know best… Call the Social Business Helpline at (855) 768-3553. Leave a voice mail question to be selected for a future show.
In this episode: Show host, Denise Holt, navigates caller questions with answers by Ric Dragon, Ted Shelton, Chuck Hester, Rob Peacock and guest panelist, Kim Celestre.
Questions answered:
Can using Facebook interest lists, circumvent the newsfeed algorithm for more views by fans?
Big data can help brands create a better customer experience, but how are analytics used to affect the bottom line and improve company performance?
What are the biggest considerations when performing an A/B test for improved conversion rates?
What's the deal with the new LinkedIn Publishing Platform? Chuck Hester has the inside info. Check out his LinkedIn author page here: http://linkd.in/1isQwro
How long should SRM platform integration take, and how long before you will see measurable results?
Full list of podcast panelists: Ric Dragon, Chris Boudreaux, Michael Brito, Ted Shelton, Liz Bullock, Chuck Hester , Natascha Thomson, and Rob Peacock